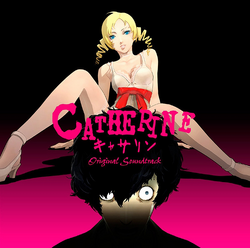 The Catherine Original Soundtrack is the soundtrack of Catherine and consists of 34 tracks, and is composed by Shoji Meguro, best known for his work in the Shin Megami Tensei series; specifically, Persona.
This soundtrack doesn't contain all the game's music. The Catherine Sound Disc contains missing songs.
Tracklist
YO
It's a Golden Show
Roux
George Washington (or Jouji Washington)
Also Sprach Brooks
Stray Sheep
Fear
Pandemonium
Non Title
at more choice
Result
Good Morning, New Day
R30's Melancholy
Hitsujigamine (Sheep on the Mountain's Peak)
Ant
Stalked In The Dark
Loser's Future
Woman's Hand
Zigeunerweisen Sarasate
Lamb Game between Male and Female
Tension
Door
Oracle
Lost
Awakening
Act on Instinct
Departure
An Die Freude
Battle on Stage
Up Up Up!
Stage
Rapunzel -Game Play-
Rapunzel -Name Entry-
Rapunzel -Game Over-
"YO" lyrics
yo LV
yo yo yo yo yo yo yo yo yo yo
yo yo, Yume de count suru sheep,
1,2,3, I get sucked in my sheets.

Kore wa genjitsu? Sore ga dream?
Mazaru mitsu to noukou na cream.

Tsunagaru shikumi wa hen to hen,
Hito to no kannkei wa en to en.

Genten to goal, musubu ten to ten,
Ato wa sense de kimaru, unmei no woman.

Left ka right, ka zengo sayu- move the brick,
step up, shte toiteku trick.

Man, you gotta fight for your chick,
demo **** ga iru kara dekinai pick.

Jikan ga nai ze kyoudai, Fumihazuseba kyou die,
Sonna show time.

Noboreru toko made noborou kai,
atomodori wa dekinai, kono koukai.

Big na house, to big na car,
ga nakutemo anngai hikkakaru.

Oshari, Hiitarishte, otoseru.
Choujyou mezashte, yatsu i tomeru.

yo, yo
yo yo yo yo yo yo yo yo yo yo

Life wa kekkyoku bubble jyan.
Hajikeru made you wa yumemigachi jyan.
Trivia
情事ワシントン (Track 4) contains a pun. The 情事 is pronounced 'Jouji' (which is the Japanese transliteration of George) and is the Japanese word for 'affair'.
External links
Community content is available under
CC-BY-SA
unless otherwise noted.