On the Official Catherine site, there is a small flip phone in the lower left corner of the screen. Clicking on it will open a simulated cell phone screen, with several options.
Mail
This includes a sexting game that began on May 23, 2011 for the North American site. On your first visit, there is a single text from Catherine which you can reply to in two different ways (One is "Law", the other "Chaos", which mimics the karma bar in the game). Each day she sends a new message in response and you get two more choices on how to reply.
Mechanics
The game is done entirely in Flash, and all your decisions are saved in your Flash settings, which means you can only play one game at a time per computer. If you want to restart mid-game, you can clear the site from your Flash local storage.
Each new message is sent from the server around 12:30am ET.
Certain people have discovered a possible bug where the attached cell phone picture does not display, and the site is stuck loading forever until you reload. It is unclear why this happens or if there is any solution for it.
Ending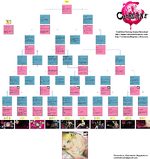 Each game lasts 6 days, including the starting day. There are ten possible full endings, each unlocking a Special wallpaper. The game resets the day after you finish, allowing you try another path. Any Special wallpapers you've earned remain unlocked, but all sent and received texts are erased.
An eleventh incomplete ending exists if you fail to respond to Catherine within the day, in which she sends an angry and accusatory text that you cannot reply to. The game resets the following day.
Notes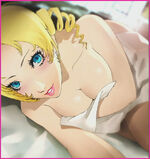 On the 5th day of texting, no matter what path you take, you unlock a unique cell phone pic that Catherine takes of herself. This picture is not saved when the game resets.
Wallpaper
Contains 4 wallpapers in 4 different resolutions. Full-size versions of these wallpapers can be obtained on the Catherine site.
Special
A section that only unlocks once you complete the texting game. It lists all the special wallpapers that have been unlocked through playing the Texting Game. Full-size versions of these wallpapers can be obtained on the Catherine site.
Avatars
A collection of 19 240x240 avatars for use on social networking sites. There are 3 of Vincent, 5 of Catherine, 3 of Katherine, 1 of each other character (Orlando, Jonny, Toby, Erica, Thomas Mutton, Trisha) and two logos.
Trivia
References