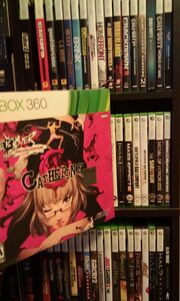 "But baby, since I've been loving you, I'm about to lose my worried mind."
--Led Zeppelin
Muh
I wish to start by welcoming everyone to the Catherine Wiki and if there is anything you have questions on or would like help with, please feel free to ask either myself (Administrator) and or Saruthelemur (Bureaucrat, Administrator).
Ello, my name is Literaryman, legally changed. I am 26, live in The States, and quite a habitual Xbox 360 user abuser. 130 SeXbox games and counting; trading is for f*ck buddies. I have a Wii but it feels more like a one night stand.
As a fan of violent and insane Japanese cinema, i.e. Takashi Miike, Kiyoshi Kurosawa, I am thoroughly looking forward to this game. At last there is something different, and with this first Atlus in-house production, I believe there will be many hours from my end of the table sunk into this title. I have preordered the Love Is Over edition, for my love of excellent double A titles and developers, and because those boxers are too sweet to pass up... Joking, I don't plan on wearing them.
Tactical Shooters over Arcade Run 'n Gunners.
RPGs over RPG Elements.
Gamerscore
Catherine
0 / 1000
0/50
Overall
38080 / 114180
2014/5285
Community content is available under
CC-BY-SA
unless otherwise noted.